Ring type medical device that continuously monitors Atrial Fibrillation (AF) and Heart Rate (HR) using PPG and ECG signals.
For the patients with AF, CART can provide information on your heart condition to prevent various complications related to heart diseases such as heart failure, blood clots, heart attack and dementia.


CART Technology : How to detect Atrial Fibrillation
CART-I provides PPG (Photoplethysmography) signals to measure heart rate and to identify Atrial Fibrillation or its burden(%), and ECG (Electrocardiogram) signals to offer supplementary information to doctors.
PPG(photoplethysmography)
Optical measurement of the cardiac muscle tissue
Measurement type : Optical
Methods : Photodiode
Electrical activity of the heart
Measurement type : Electrical
Methods : Electrodes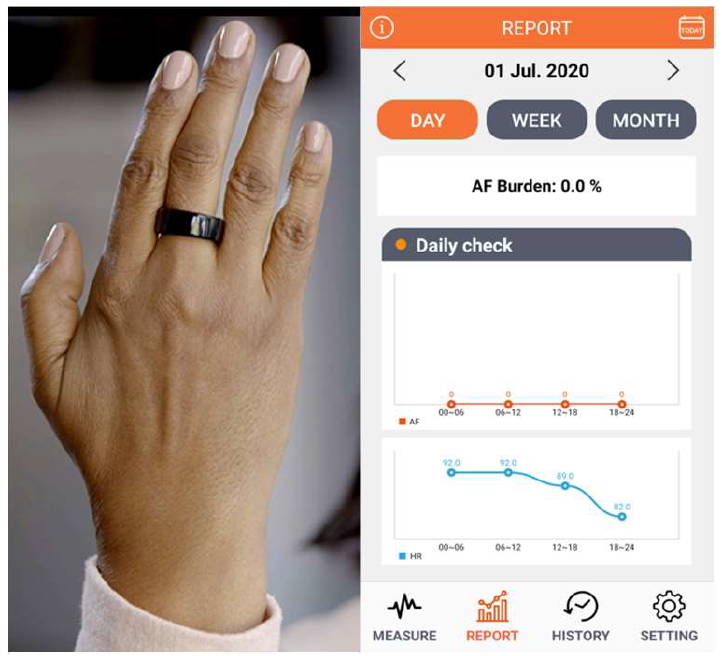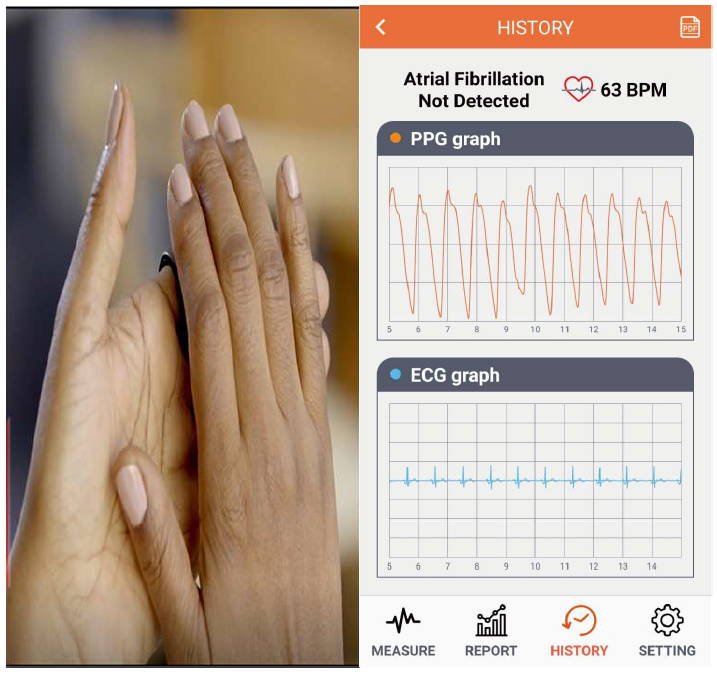 Background check mode (PPG only)
Self check mode (PPG+ECG)
Background check mode that monitors Atrial Fibrillation and Heart Rate for 24/7 without user's intervention.
1) CART-Ring regularly collects your PPG signals when wearing it.
2) Your monitoring data can be checked in real-time through CART-App.
3) CART-Ring containing memory devices can save up to 1,500 data measured per 10 seconds.
Event recording for 30 seconds by using ECG and PPG simultaneously when you feel any symptoms related to heart diseases.

1) CART-Ring collects both ECG and PPG signals through the Self-check mode of CART-App.
2) Turn the palms with CART-Ring upside down and attach attach fingers of the other hand to metallic part of the CART-Ring.
Then, ECG and PPG signals measured for 30 seconds.
4) The measurement result is shown in the CART-App.
On "REPORT" tap of the CART-App, the Background check result can be checked (daily, weekly, monthly).
1) Atrial Fibrillation burden (%)
2) Mean Heart Rate
On "HISTORY" tap of the CART-App. Self-check result can be checked.
1) Atrial Fibrillation Episode
2) PPG Graph
3) ECG Graph
4) Heart Rate
World's first wearable ring
certified as a medical device

Continuous heart monitoring
with 99.6% diagnostic accuracy
Provide outpatient monitoring platform


-MFDS and CE/MDD have approved

- Offer two complementary ways to measure your HR and pulse (Background/Self-check mode)
- AF episodes and AF burden(%)
- 99.6% diagnostic accuracy with Deep Learning Algorithms
- Easy to check HR and AF burden through CART and CART App whenever, wherever you are
- Doctor you designated can access your heart rate and irregular pulse through Doctor's website and give you the feedback.
- Support continuously Digital communication between interconnected platform for CART allows monitoring and diagnosis of AF
---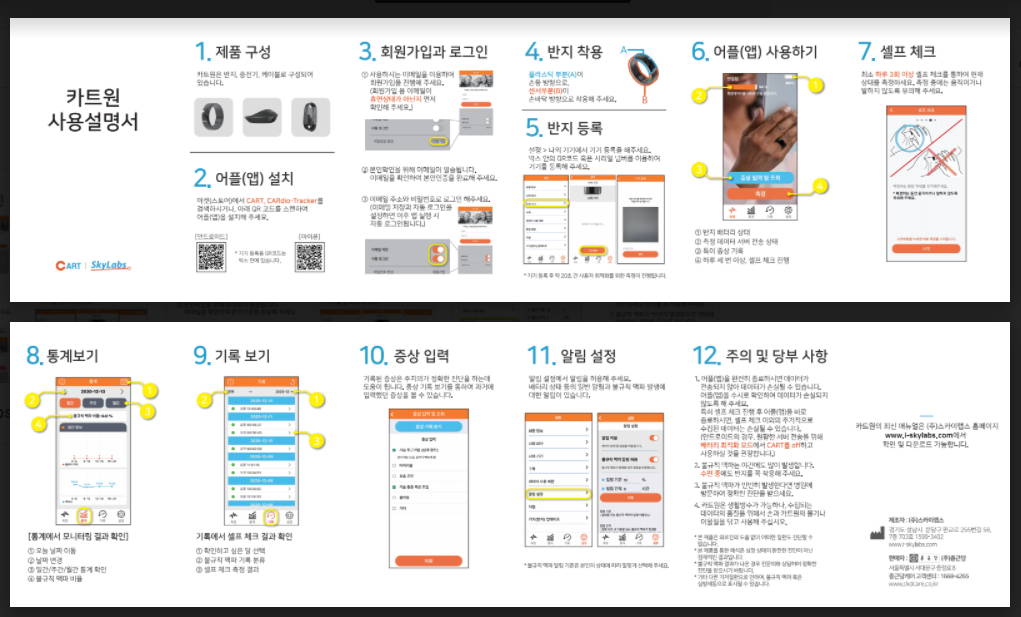 Outpatient monitoring platform

Lithium polymer battery 3.7 V.D.C

Wireless Charging, Input 5 V.D.C 1A, Output 5 V.D.C 1A

Bluetooth Low Energy (from Ver5.0) Within two-meter range

Mobile : iPhone 7 or later / Android mobile phones
OS     : iOS 10.0 and later / Android 6.0 and later
Web   : I.E 9.0 and later

Internal diameter : 16.4~28.4mm
Weight                 : 3.6~5.2g
Size Range           : 8 sizes (R0K1~8)